The forefront of Europe is in Digital w/ @NeelieKroesEU
Open Cyprus in the Digital Age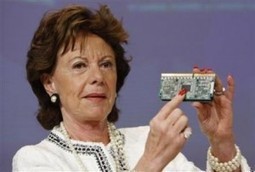 To ensure that every citizen in Europe gains access to a fast broadband connection in support of the EU's Digital Agenda. The aim is to promote digital inclusiveness and enhance the economic competitiveness of the continent through increasing digital literacy.
Widely known as the European Union's 'internet tsar', since 2010, Neelie Kroes has been vice president of the European Commission for the Digital Agenda for Europe.
"It is important for consumers to have access to full, robust, best-effort internet services, to have clarity in the services they are or are not getting, and if they are not satisfied, the ability to more switch providers more easily. "Consumers also need to know if they are getting Champagne or lesser sparkling wine. If it is not full internet, it shouldn't be marketed as such; perhaps it shouldn't be marketed as "internet" at all, at least not without any upfront qualification," says Kroes.
Also known as Net Neutrality, this implies that all 'unclear' access impediments  should be removed – a 'frictionless' internet of sorts, which then could invite us to review also the performance of national internet domain registries  – such as .CY for example.
If consumers should be able to get to what they buy with clarity, it is only fair that businesses and organised should also benefit from added agility using national Top Level domains for digital market access.  Judging from the Nic.CY website and manual process to purchase a domain from the University of Cyprus, it can't be said that this is actually a most effective and robust way of getting there.
Some enlightenment sit with efforts at the Europe's Digital Agenda Strategy  and from Twitter Conversations at : #dat12social
More on Digital Agenda and Neelie Kroes http://blogs.ec.europa.eu/neelie-kroes
See Full Article on www.telecoms.com